---
| | |
| --- | --- |
| | Michelle is Dr. Slam's surgery scheduler and an exceedingly experienced member of the team, having joined the Metropolitan Surgery division of COSA in April 2002. Michelle is responsible for juggling Dr. Slam's exceedingly busy clinical and administrative schedule. Michelle's experience shows, as she is very strong clinically with patient questions, concerns, and issues, and helps to coordinate patient referrals, surgery scheduling, insurance precertification, and post-operative follow-up. Michelle can be reached for surgery scheduling and preoperative surgery scheduling issues at her direct line, 614-751-2774. |
---
Liz is the second COSA surgery scheduler and may fill in for Michelle and schedule surgery patients for Dr. Slam when necessary. Liz is an integral member of the team, always treating patients with compassion and care, and is always seen with a smile on her face! Liz may also assist with clinical patient care when necessary. Liz has been with COSA since 2010, and can be reached at direct line 614-864-2229 for surgery scheduling.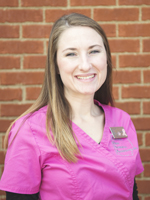 Tiffany joined the COSA family in 2013. Tiffany brings to us experience from patient care in the hospital setting and is the senior clinical staff at the COSA East office. Tiffany is involved in direct patient care at the East office, responsible for imaging and referral coordination, patient care during office days, and other necessary office duties. She is a very hard worker and kind to all of the patients.
Becca joined our corporation in 2012, and is the senior clinical staff at the COSA West office, and floats to the COSA East office on busy days. Becca is involved in direct patient care, imaging and referral coordination, and other patient care during Dr. Slam's office days. We are very proud of Becca, as in addition to her full time job with COSA, she is in nursing school at Columbus State and hopes to ultimately become a Nurse Practitioner.
Mariah is a Medical Assistant who has been with COSA since 2015 and had several years experience working in a busy urgent care center prior to her joining the team. As such, she has been a very quick learner and is very kind to all the patients. She is responsible for patient scheduling, clinical activities and other duties at the COSA East Office.
Arika joined COSA in 2016, but comes with years of clinical experience in the medical field. Arika is mainily responsible for phone coordination, patient care referrals, and appointment scheduling, and she is located at the COSA East office.
TJ also joined the COSA team in 2016. TJ has experience in breast health from her prior employement at a Women's Health Center in Columbus, and she is responsible for patient clinical duties, appointment scheduling, and other office duties at the COSA East office.
Meet the Managers
| | |
| --- | --- |
| | Jennifer is the Billing Manager for COSA and has been with our corporation since 1999. Jennifer is responsible for overseeing the COSA billing department, and leads the team that helps both the physicians and the patients navigate the ever-complex insurance system. The billing department is happy to assist patients in trying to understand their insurance obligations, and can be reached directly at 614-866-4270. |
---
Kathy is the Office Manager for Metropolitan Surgery, and is the glue of our Corporation. Kathy started in clinical patient care with Metropolitan Surgery in 1998, but was elevated to the role of Office Manager in June of 2009. She is responsible for overseeing West and East office employees and coordinating the numerous administrative responsibilities for the physicians and the office. Kathy also steps in when necessary for patient clinical duties and is able to answer any patient question or issue should it arise.
Mindy Ridgeway, MS, COO is the Chief Operating Officer (COO) of Central Ohio Surgical Associates since 2013. She comes to COSA with extensive experience in Health Care Administration and earned her Master's from The Ohio State University. Mindy's vision, support, and guidance have allowed Dr. Slam to expand the Breast Service Line within COSA in a very short time. She was crucial in recruiting a Breast Nurse Practitioner for Dr. Slam.  Mindy is a visionary in regards to women's health and is a staunch supporter of quality evidence-based surgical care.[/vc_column_text][/vc_column][/vc_row]